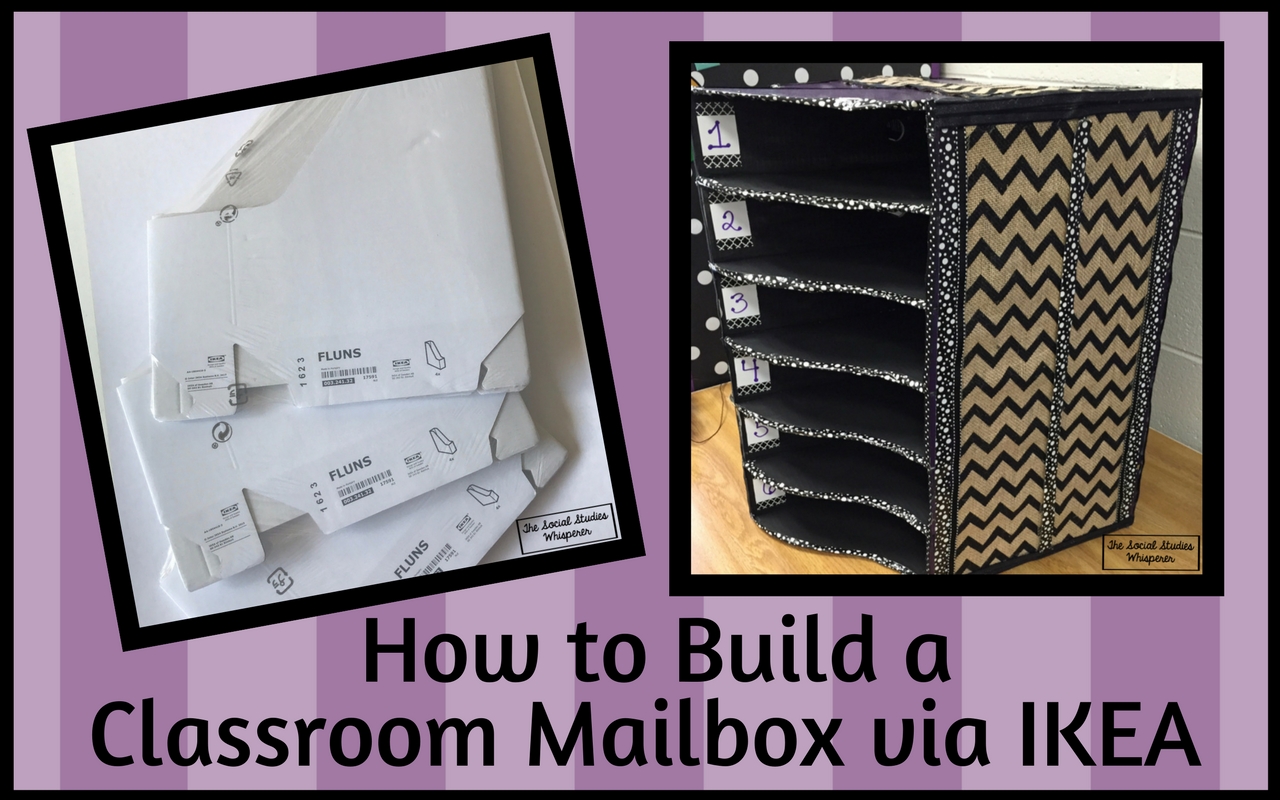 Have you ever spent hours and hours on Pinterest only to be disappointed by the lack of results? Or, even worse found a great idea which leads to…..just a picture.jpg file with no content?? I have!!! Yes, a picture is worth a thousand words but come on! Not helpful when you get in a real crafty mood and need a starting point for the "vision!" When I went to build a classroom mailbox I thought for sure there would be pins on Pinterest with a step-by-step guide? WRONG! Well there is now!! *And disclaimer as I swap out images for the correct brand logo, boy have I learned a lot about how to take a decent photo since August 2015.
I had seen tons of posts about using the USPS Priority Mailboxes. Too complicated to order enough for a class set. And I would feel kinda guilty about not using them for their intended purpose. Sometimes I'm such a rule-follower it's annoying. I am so over ugly file folders being uncooperative in a file crate and I am not willing to take out a loan to buy the wooden mailboxes. So I decided to practice what I preach at school about "problem solving"and make my own classroom mailbox. I'm not sure if this is more of a tutorial or a cautionary tale about what not to do. Either way it's a win because this thing is finished. And now there will be at least 1 DIY IKEA classroom mailbox pin in all the Pinterverse that features content.
I am quite fortunate to live only about 30 minutes away from The Promised Land: IKEA!! Cue the Hallelujah Chorus!! If you've ever been there, you know what I mean. It's the kind of place husbands avoid like the plague. I just kind of walk around with a big fat "DUH" look on my face going "OOOHHH, AHHHHH." I picked up a bunch of these super cheap cardboard file holders last year on one of my pilgrimages to the giant yellow and blue utopia. If you don't live near an IKEA maybe consider moving;) or you could check out their website here:  IKEA Magazine Files
Since I already had those on hand and I kinda sorta spent far too much money online shopping during the early summer, I decided to give it a go. And then after procrastinating for half the summer, I decided to do a little more. And then the summer, I finally put the labels on it. Put a fork in this beauty, because she's done. Don't worry, this project could be finished in a few hours.
How To Make A DIY Classroom Mailbox via IKEA Directions
I'm going to list basic supplies I used. Your supplies will vary depending on how you decide to personalize it and how logical you are.
My Supplies
*24 cardboard magazine holders (you may need more or less depending on class size)
*Spray adhesive or hot glue gun
*Acrylic paint/paintbrushes (enough to do 2-3 coats, small bottle was NOT enough)
*Ribbon, craft paper, fabric, etc.
*Sealant/top coat
*Border from Target Dollar Spot, white paper, scotch   tape (it's hard to paint the base so this is a decorating cheat)
*Numbered Labels
*Duck Tape or Washi tape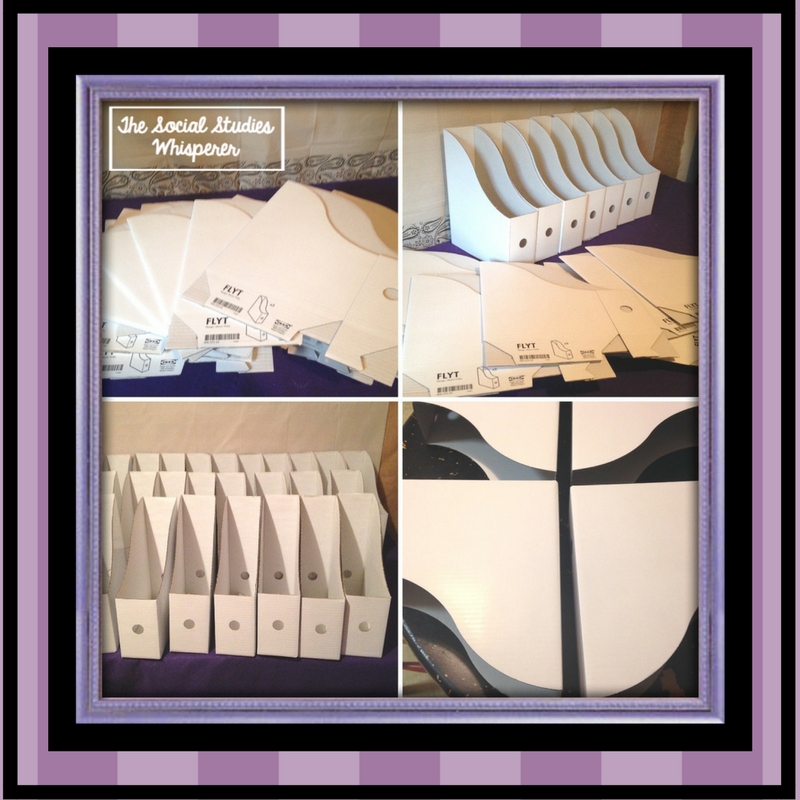 1) PREP: Open the 24 cardboard magazine holders and put them together. They work best if you kinda bend the folds backwards to loosen them up.
2) BUILD: Turn the containers sideways and attach them together by the base. I stacked them first to see how it would look. I decided to do a 2-sided mailbox with 12 slots on each side. I used spray adhesive since my "good" hot glue gun was at school.
Don't use an adhesive for the first time on a massive project. Of course I didn't read the directions and it took me hours to get the stuff off my hands. And I didn't use it in a well-ventilated space. My suggestion is to use a hot glue gun! If I were to make another one I would also push the boxes together more firmly because mine was kinda lopsided. That's why I put the burlap on the side!!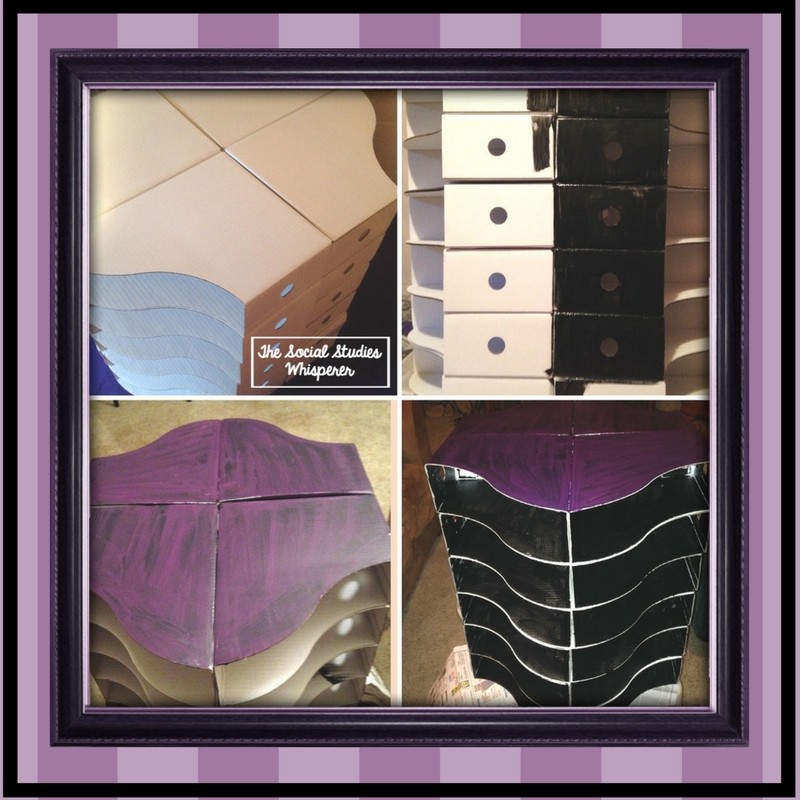 3) DECORATE: I painted it after I assembled it, but it might have looked better if I would've painted first! I painted the inside black but was being lazy and didn't want to paint the bottom of the box. Can you guess what happened? I got black paint everywhere.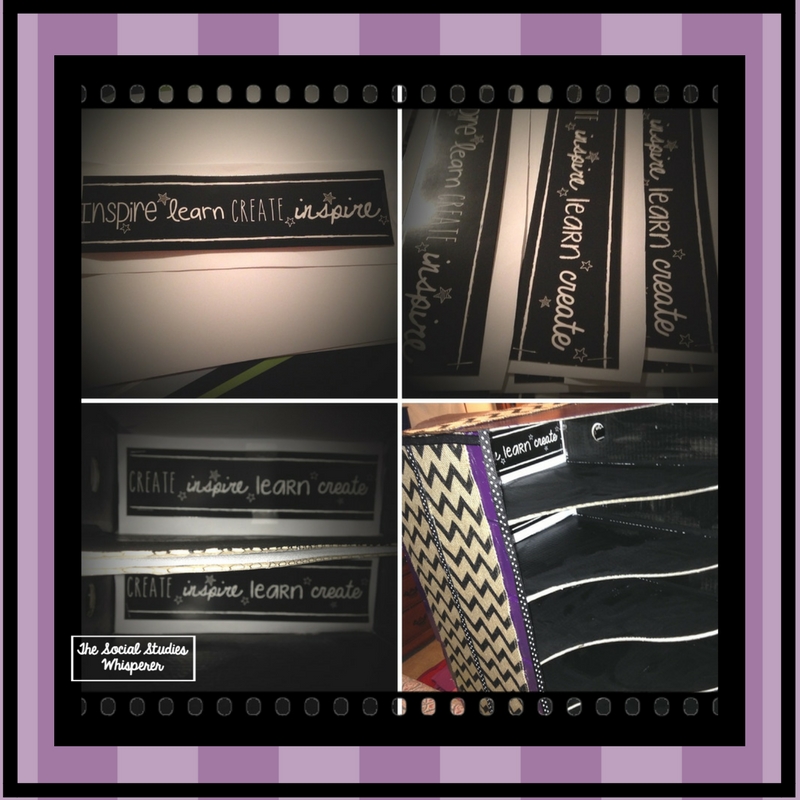 So I happened to have this super cute border from Target's Dollar Spot. I had used some to make a fake broadcast set for Periscope so I had to rip it down to have enough. I cut the pieces in half and then cut out white copy paper the same size as the base of the box. I stapled some and gave up and taped it to the paper because all my glue and glue sticks are at school. I have enough school supplies to open a store in my classroom but not a bottle of Elmer's glue to be found in the dead heat of summer at my house. #teacherproblems
So I should've waited to tape them to the inside of the box because naturally when I did the second coat of black paint I accidentally painted on them!!! Luckily the white paper was easy to replace!
Then you can go to town personalizing it!!! I painted the sides and top purple to match my classroom theme at the time. Then I used my mini glue gun to put the wide burlap ribbon on and skinny ribbon (and burned myself 99 times).
Yes, I mixed two busy patterns. It computes with my brain. Feel free to use a more subtle color palette or just solids. Be YOU. I hot glued the skinny ribbon to the sides and the middle basically to cover up how it wasn't even.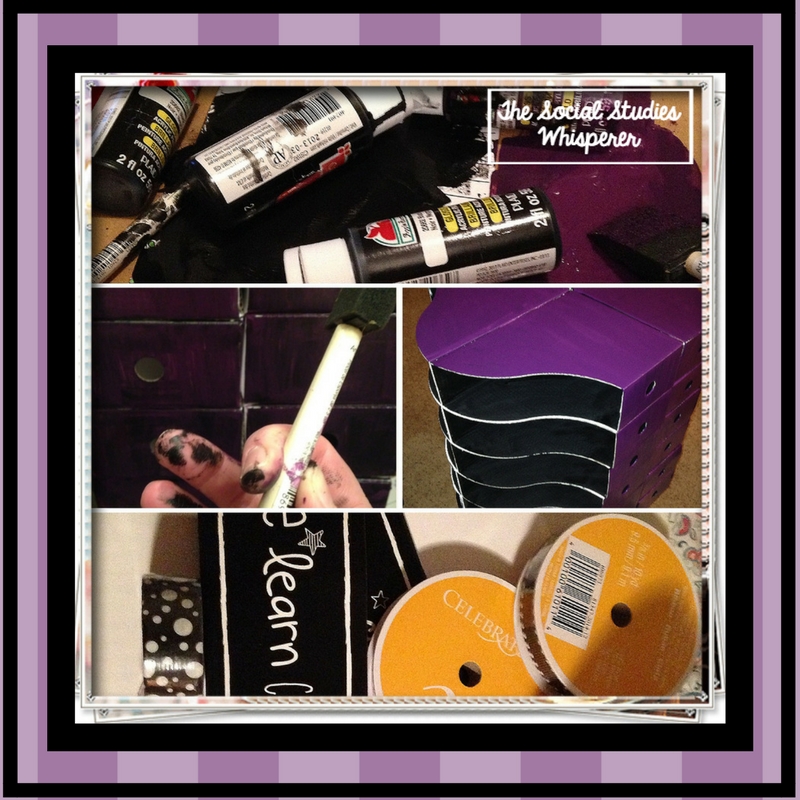 I added the super cute polka dot duck tape I got as a gift from a Facebook teacher group swap on the edges. And oh no, duck tape emergency! I have no sense of measurement so I didn't know I would need more than 1 roll. So I contacted my gift giver and found out where she got it! She lives in Florida so thank goodness it was Walmart and not a cool, beachy shop:).
Days later (some emergency, right?), I stopped at Walmart at the crack of dawn (good time to shop there) on my way to work and found the last 2 rolls of polka dot duck tape buried in a huge pile. I bought both just in case.
I had thought maybe the purple tape in the picture would look good but it didn't! Then I finished the edges and finally labeled the slots. Still trying to get the tape to stick on all the way. Welcome to humidity in Georgia. UGH. I cut self-service name labels in half (probably from The School Box) and wrote numbers on them and voila!!! It's finally done for real. You could make a much smaller version (maybe 5 slots) to hold papers for the week. The possibilities are endless! Now, decorators start your engines! I can't wait to see your version of a DIY classroom mailbox!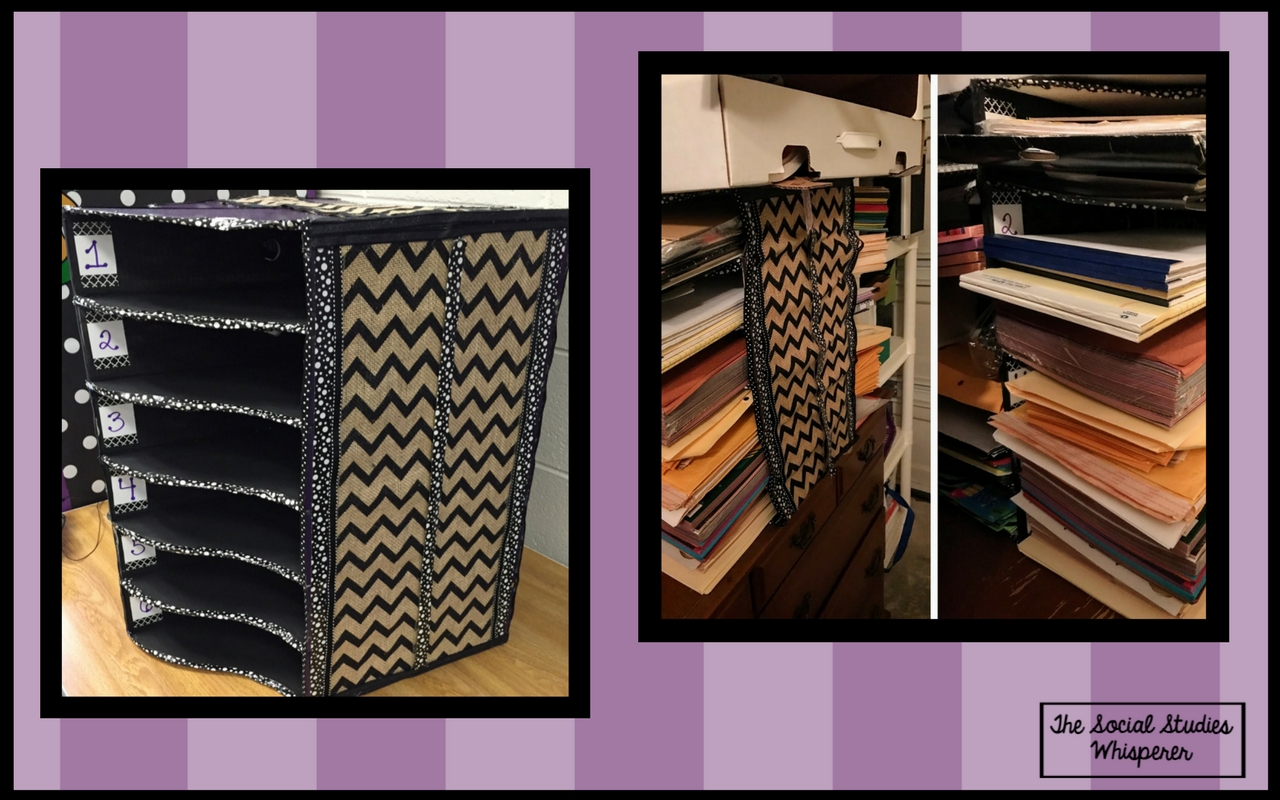 Update-Here is my Mailbox then and now! Since I am out of the classroom I decided to repurpose my mailbox as office supply storage. I wouldn't recommend stuffing it that full. It's lived a good life for me. Want to know more about how I used Classroom Decorating Tricks to decorate my home office? Read this!